El punto de vista de Víctor Martín sobre Social Media
May 27, 2016
4 min read
Hoy tenemos la oportunidad de hablar con Víctor Martín, CEO de Wiluve y que está considerado como una de las figuras más influyentes en Social Media a nivel nacional y una de las personas a seguir.
Víctor lleva muchos años ejerciendo como consultor en marketing online y es el CEO de la agencia de marketing Young Media.
También es speaker en diferentes charlas y congresos siempre relacionados con Social Media, Blogging, emprendimiento o Marketing Online.
¿Quieres recibir consejos y predicciones de este profesional?
¡Aquí los tienes!
Entrevista a Víctor Martín sobre Social Media
La primera pregunta que quiero hacerte es: ¿cuánto tiempo por día dedicas a tus Redes Sociales?
No te creas que dedico mucho tiempo a las Redes Sociales.
La cosa es que trato de programar la gran mayoría de los contenidos y dedicar el tiempo a hacer estrategias o gestionar campañas de publicidad.
Pero, gestionando mis propios perfiles, intento dedicar lo menos posible, contestando a la gente que me está mencionando y programando contenidos a la semana.
 En tu opinión, ¿es Facebook Ads útil? ¿Qué consejos rápidos nos darías para sacarle el máximo partido?
Si tu cliente potencial está en Facebook, es super útil.
Yo, de hecho, siempre recomiendo a las empresas que quieren tener presencia en Facebook que destinen una parte de su presupuesto mensual a pagar publicidad en esta plataforma.
Pero hay que empezar en pequeño: gastando poquito y en el momento donde hayamos conseguido un retorno de inversión, entonces es cuando podemos ampliar este presupuesto. Hay un error muy típico que es empezar por grandes cantidades de gastos sin tener la campaña bien definida y en este enfoque el presupuesto se consume muy rápido.

 Todos sabemos qué es Facebook y en qué nos puede ayudar dentro de nuestra estrategia de Social Media. LinkedIn es una red social que no está tan explotada por las marcas en muchos países. ¿Cómo ves tú este hecho? ¿Qué argumento darías a las empresas que quieren desembarcar en LinkedIn pero no lo hacen porque no ven clara la rentabilidad de estar ahí?
Lo primero que diría es que si es una empresa cuyo negocio es B2B creo que le puede sacar mucho partido a Linkedin.
Si es B2C obviamente quizás no le consiga tanto rendimiento.
Hay que tener claro el objetivo de por qué estás en LinkedIn y qué quieres conseguir teniendo presencia en ella.
Bajo mi punto de vista, es una red social en la cual si queremos sacarle un verdadero partido, tenemos que contar con algún experto que nos pueda decir cómo hacer campañas allí y como gestionar nuestra presencia. Va muy bien ésto pero cuando sabemos gestionarlo muy bien.
 ¿Qué red social está, en tu opinión, adaptada de mejor forma a las necesidades de los bloggers?
Contestar "depende" no me gusta pero depende de cual es su actividad y del sector en que se mueve.
A lo mejor para un blogger de moda tener presencia en Pinterest e Instagram es esencial y, obviamente, no tiene ningun sentido la presencia en Twitter.
 ¿Y si hablamos de un e-commerce?
Yo creo que para e-commerce está funcionando muy bien Facebook, una red social que da buenos resultados a tiendas online, más que nada porque las herramientas que te ofrece Facebook son muy interesantes para generar más ventas a tu E-commerce.
Poder hacer remarketing de una forma muy sencilla y muy asequible si la comparamos con otras plataformas como Google Adwords, por ejemplo.
 Y, ¿cómo ves Instagram? ¿Le auguras un buen futuro?
Instagram permite conectar de una forma mucho más cercana y mucho más humana con tus seguidores, con tu comunidad.
Esta red social ha crecido mucho y va a crecer más, y el engagement que puedes generar, comparando con otras redes, es brutal.
Pero es cierto que ha bajado el engagement desde que han introducido la publicidad.
Aún así, yo la veo como una red social de futuro.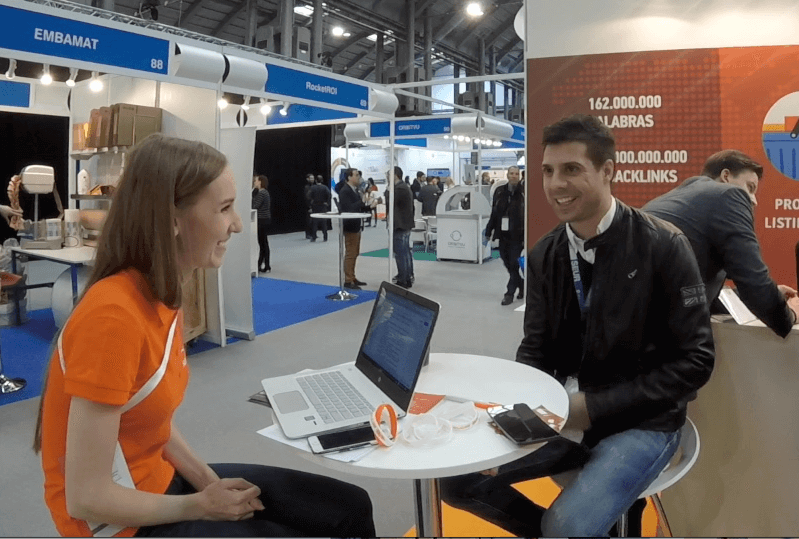 ¿Qué clave es para ti la más importante para posicionarte en Redes Sociales?
Lo primero que tienes que definir es cómo le puedes aportar valor a tus seguidores.
Tienes que dar un buen motivo para seguirte.
Si te quieres posicionar, tienes que dar algunos motivos ya sea compartiendo contenido propio o haciendo curación del contenido de terceros.
 Según tu experiencia, ¿cómo nos ayuda trasladar los contenidos que escribimos en el blog al publicarlo en nuestras Redes Sociales?
Al final, las Redes Sociales funcionan como un ampliador.
Darle un buen uso a las Redes Sociales para difundir estos contenidos que vamos generando es esencial.
Para poder llegar a más gente y con esto tener una presencia sólida.
 ¿Vamos a ver muchos cambios en Redes Sociales en 2016?
Es un poco utilizar la bola de cristal o intentar ver el futuro.
Es un mundo que evoluciona de una forma muy rapida, que está en cambio constante y que tampoco puedes predecir a ciencia cierta.
Lo que está claro es que hay cosas como por ejemplo los vídeos que cada vez tienen más presencia e importancia.
No veo grandes cambios en las Redes Sociales respecto al año pasado.
Quizás estoy equivocado, pero pienso que no va a salir una red social nueva que vaya a eliminar a Facebook. Las cosas van a estar en el mismo sitio.
Foto (Entrevista): Shutterstock
Este artículo es una transcripción de la entrevista realizada a Víctor Martín en eshow 2016.
Jana Garanko
Jana is Head of PR at SEMrush. Together with her team, she increased the brand awareness of SEMrush brand globally with curious facts and statistics all over the world. Crazy about data, even if she sleeps.
9 Steps to Creating SEO-Friendly Content
Industry Shifts, Online Stats & Surefire Insights for Digital Marketing Growth. In this turbulence-proof ebook, we highlight the industries that made the smoothest transition to online. You'll see...
More articles about Events