10 importantes errores AMP a evitar - Estudio SEMrush
Oct 18, 2017
4 min read
Las Accelerated Mobile Pages o AMP, anglicismo de páginas móviles aceleradas, van camino de convertirse en una de las tendencias más importantes del año.
Introducidas por Google en 2016, las AMP fueron creadas para ayudar a los editores a optimizar la experiencia en el móvil.
Dicha optimización permite a aquellas páginas con contenido pesado, como vídeos, animaciones, gráficos y anuncios a cargarse de forma más rápida y ganar visibilidad en el carrusel de Google.
A día de hoy, el uso de las AMP ha sido impulsado internacionalmente, tanto que muy pronto los anunciantes de Adwords de todo el mundo tendrán la oportunidad de utilizar las páginas AMP en sus landing pages.
Y por si fuera poco, este tipo de páginas de carga rápida pronto optarán a ser snippet destacado en los resultados de Google.
A pesar de que existe una gran reticencia sobre la utilidad real de las páginas AMP, la realidad es que en 2018 pocos podrán escapar de su influencia.
La web oficial del proyecto AMP está haciendo un gran trabajo informativo ofreciendo a los webmasters información necesaria con guías y tutoriales que les ayudan en su trabajo.
Entre la información contenida en su web, puedes encontrar más de 30 errores a evitar.
¿Cómo distinguir los errores AMP más comunes que debemos evitar?
Como sin duda sabes, SEMrush ha creado una nueva funcionalidad única en el mercado en estos momentos.
La herramienta Site Audit de SEMrush analiza tu web en busca de más de 40 posibles errores junto a otros potenciales problemas de SEO.
También estamos desarrollando una guía para ayudarte con la implementación de la tecnología AMP en tu web.
Además, y con el propósito de ir más allá, hemos enumerado los 10 errores más comunes que generan las páginas AMP.
Para ello, hemos auditado las webs de las 300 publicaciones más importantes de 8 países con nuestra herramienta Site Audit.
Estamos muy orgullosos del trabajo realizado y queremos compartir contigo los resultados de este importante análisis.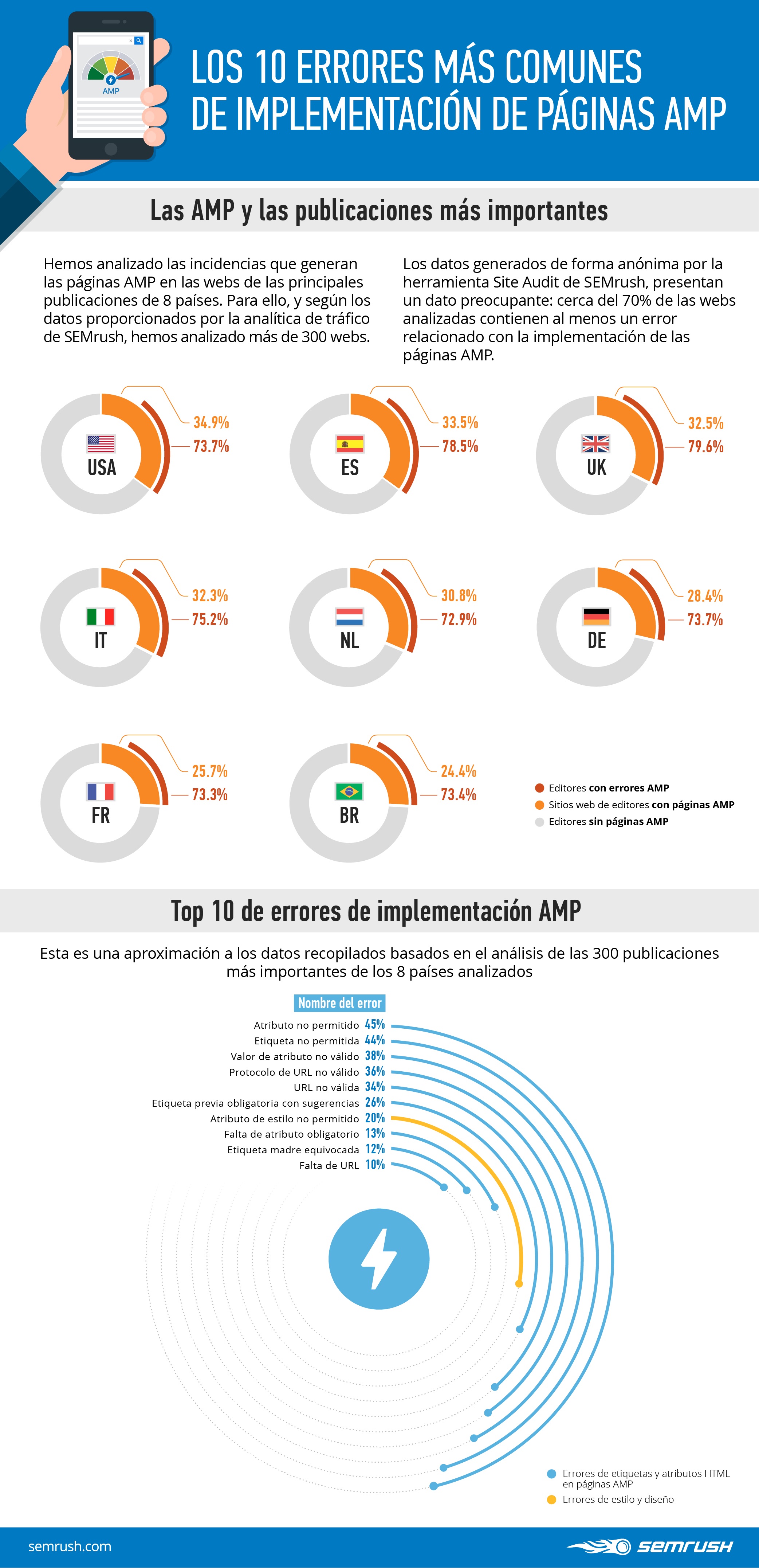 Para terminar, unos comentarios extras sobre los datos analizados.
Como puedes ver, el porcentaje de las publicaciones que han optado por implementar las páginas AMP varía entre el 24 y el 34%, dependiendo del país.
No podemos asegurar si esta cifra es alta o baja, simplemente porque no disponemos de suficientes datos como para evaluar el conjunto.
De todas formas, será interesante comprobar la evolución de esta cifra dentro de un año y compararla con los resultados de 2017.
En lo referente al número de webs que presentan errores de implementación de páginas AMP, es bastante amplio; aunque los datos son complejos de interpretar sin tener la referencia del número de errores que es, sin duda, la parte más interesante de esta investigación para cualquier webmaster.
Pero vayamos directamente al grano y examinemos con detenimiento los errores de implementación de páginas AMP y analicemos si son o no importantes y cómo afectan a los propietarios de las webs.
Debemos advertirte que en este estudio hemos buscado todo tipo de errores, aunque nos hemos centrado en el Top 10, porque aquellos que aparecían en el puesto número 11 eran poco frecuentes.
De entre todos los errores destacan de forma absoluta los errores HTML.
Además, hay que decir que son extremadamente graves, porque impiden a la página afectada aprovecharse de todas las ventajas de la tecnología AMP.
Desafortunadamente, cumplir con los requisitos HTML que solicita AMP no es tan sencillo.
Por ejemplo, cuando se trata de verificar etiquetas y atributos, no queda otra que examinar a fondo un registro muy amplio, comprobar aquellos que están en la lista blanca y lidiar con una gran cantidad de información relativa a los que no están permitidos.
Todo lo anterior propicia un gran margen para el error.
La corrección de estos errores HTML está relacionada con la eliminación de aquellas etiquetas que no están permitidas, así como el cambio de protocolos no válidos.
Lo mismo sucede en lo referente al estilo y el diseño, existen muchas restricciones similares a las del código HTML.
Incluso existe un requisito que obliga a incluir atributos de altura y anchura para cada una de las etiquetas visualizadas, de forma que la página resultante se pueda desplazar fácilmente.
A pesar de que estos problemas de estilo y diseño no están tan extendidos como los relativos al HTML, ignorarlos significa arriesgarse a que la página deje de ser relevante para las SERPs.
Afortunadamente, los errores mencionados son bastante fáciles de corregir, ya que la solución al problema suele estar en el origen.
Los problemas originados por las plantillas suelen ser muy raros, por eso no los hemos incluido en los resultados de la investigación.
Como puedes ver, conocer en profundidad la salud de la propia web y mantenerse al día con las recientes tendencias SEO, es un desafío constante para la mayoría de los webmasters, obligándolos a hacer malabares con numerosas herramientas y aplicaciones al mismo tiempo.
Por eso, te ofrecemos SEMrush Site Audit como una solución integral beneficiosa para todos, desde el propietario de una agencia SEO al desarrollador web interno de una empresa.
[ create-campaign bg_images="https://static.semrush.com/blog/uploads/media/75/d9/75d968e482d1a761aa18f1a23fbbd17b/amp-compaign-banner.jpg" bg_button="-success" header="Audita tu página AMP" text="con SEMrush Site Audit"]
Te invitamos a compartir nuestra infografía y así difundir los 10 errores AMP más comunes. ¡Gracias!
Elena Terenteva
Elena Terenteva, Product Marketing Manager at SEMrush. Elena has eight years public relations and journalism experience, working as a broadcasting journalist, PR/Content manager for IT and finance companies. Bookworm, poker player, good swimmer.
9 Steps to Creating SEO-Friendly Content
Industry Shifts, Online Stats & Surefire Insights for Digital Marketing Growth. In this turbulence-proof ebook, we highlight the industries that made the smoothest transition to online. You'll see...
More articles about Technical SEO